On 7/20/2014, it was the 45th anniversary of the landing of Apollo 11 on the surface of the moon.  GE, in conjunction with JackThreads and Android Homme, decided to celebrate by developing a Moon Boot sneaker based on the technologies of the moon boot.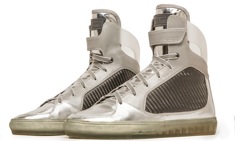 The best part was that they released it at the exact time the Eagle touched down on the moon and committed to only selling 100 of these boots.  The "launch" or sale price of the boots was $196,90 in honor of the 1969 landing.  The boots were available for about 1 minute and then were sold out.  The orders are now in and they are being produced, to be delivered around 10/31/2014.
I was fortunate enough to get a pair and will have a pair of size 10 boots coming around Halloween.  But in the past three days I've seen ads for 5 of the 100 show up on eBay ranging in prices from $400 to $3000.  The $400 ones currently have bids fro $455 and the $3000 are hopeful for a buy-it-now sale.
What will I do with mine?  Time will tell.  But come October if I can get $800+ for the shoes I might find myself tempted to part with them for some Xmas shopping funds.  I'm not 100% sure though…  Having something that there are only 100 of them in the world of is pretty cool.